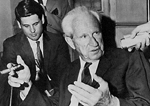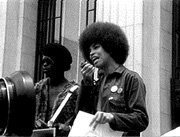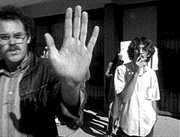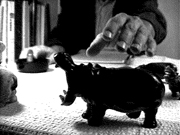 Herbert's Hippopotamus
57 min, Betacam SP, October 1998. Producer, director, writer, and editor.
Herbert's Hippopotamus is a search for the turbulent life in California of philosopher, writer, and activist Herbert Marcuse, visionary force for the youth and student movements during the 1960s and 1970s.
Blending personal narration, archival news footage, staged imagery, and interviews, the documentary examines the media frenzy generated by Marcuse's presence in Southern California through incidents such as Marcuse's support of student demands, Governor Ronald Reagan's call for his retirement, the American Legion's attempt to expel him from the University of California, and the numerous death threats made against Marcuse.
Herbert's Hippopotamus explores the historical background for the encounter between Critical Philosophy and the Third World, Feminist and Anti-War Movements, as well as the political turmoil in reaction to these coalitions.